What each club in Premier League take home at the end of the 2018/19 season
have been revealed
, and the statistics are once again rather astonishing.
As usual, the big 6 teams earned the most money, but every single team on the list earned at least 100 million pounds, apart from relegated Huddersfield, who still earned as much as Spanish giants Atletico Madrid.
Below is what each club earns at the end of the season;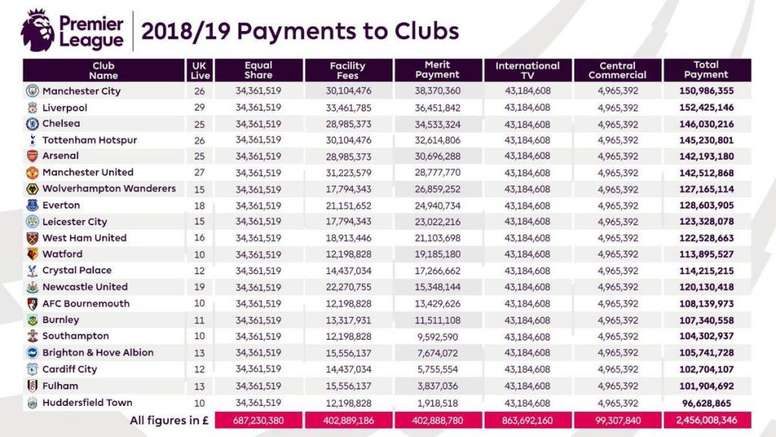 The annual TV money has been revealed

for the 2018/19 season

and once again

the comparison with the other major leagues is being made.
All 6 of the 'Big 6' earned more than 140 million,

with Manchester City and Liverpool earning over 150 million,

with the Anfield club earning the most due to having more live games on UK TV.
Meanwhile, the next highest ranked teams in the Premier League

all earned north of 120 million pounds

, with the 'best of the rest'

Wolverhampton Wanderers, Everton

,

Leicester City

,

West Ham United

all earning more than 120 million,

as well as Newcastle,

who despite finishing in 13th place

also earnt more than 120 million

due to also having more televised matches than the teams above them.
Watford

and

Crystal Palace

earned over 110 million pounds, whilst

Bournemouth, Burnley

,

Southampton

,

Brighton

,

Cardiff

and

Fulham

all earned over 100 million pounds for their TV rights this season.
Only bottom of the table

Huddersfield Town

earned

less than the 100 million pound mark

, with

Huddersfield earning 96 million pounds.
This seems like a lot of money anyway for the bottom of the table club,

but when compared to last season's La Liga figures, the comparison is incredible.
Only Barcelona and Real Madrid earned money

that is even comparable to the Premier League figures

. Barcelona,

who won the league, earned 154 million euros, which is just under 136 million pounds.

Meaning that in comparison with the Premier League sides,

they would be 7th in the table.
Real Madrid

, who won the Champions League for the third season in a row,

earned 148 million euros, the equivalent of just over 130 million pounds

, which would equate

to 7th too in the Premier League table

, just 3 million more than 7th place in the Premier League Wolves earned this season.
No other team in La Liga earns more than any Premier League team.

Atletico Madrid, who were Europa League winners, earned a mere 110 million euros

, which equates

to 97 million pounds,

meaning they would earn

less than 400 thousand pounds more than Huddersfield

, who won just 3 matches this season.
This incredible statistic

once again shows just how much money is in the Premier League

, and why there is so much attraction for clubs to reach the Premier League.