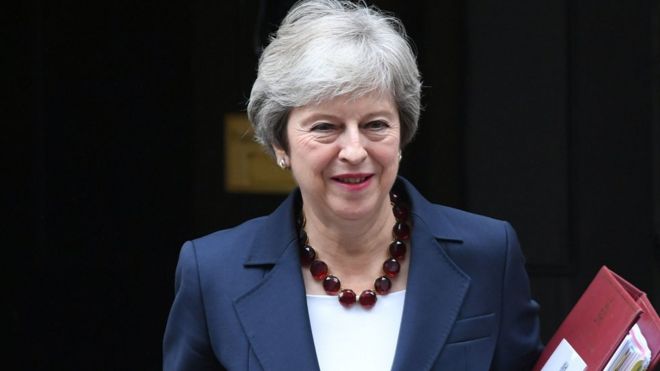 Theresa May has set out the Brexit compromises she will make to Labour amid a warning that signing up to customs union with the EU will split her party.
In a marathon meeting of the cabinet in Downing Street, the Prime Minister and her de facto deputy David Lidington instead revealed a plan to try to break the Brexit deadlock in the talks with Labour.
In a discussion that lasted more than two hours, cabinet ministers debated the UK's post-Brexit customs relationship with the EU, as well the possibility of asking MPs to vote on a range of negotiating goals.
Before the meeting, 14 leading Conservative backbenchers, including Boris Johnson, David Davis and Iain Duncan Smith, wrote to May warning her that signing the UK up to any post-Brexit customs union would break the Conservative party.
The talks between the government and Labour have ongoing on since the beginning of April with little sign of a breakthrough, but the Prime Minister attempted to signal today they could not run on indefinitely.
Her official spokesman said: "Cabinet agreed to continue discussions with Labour to see what was possible however it was agreed that it is imperative to bring forward the withdrawal agreement deal in time for it to receive Royal Assent by the summer parliamentary recess."
When pressed on when summer recess - the date on which parliament breaks up - would be, the spokesperson declined to comment, insisting that was a matter for the Leader of the Commons Andrea Leadsom.
Ahead of Tuesday's cabinet, a host of leading Tory backbenchers sent a letter to the Prime Minister warning her against giving in to Labour's demands for the UK to join a customs union with the EU.
Boris Johnson, David Davis, Dominic Raab and the recently sacked Gavin Williamson all signed the letter, as well as Sir Michael Fallon, Iain Duncan Smith, John Whittingdale and Sir Graham Brady.
It read: "We believe that a customs union-based deal with Labour will very likely lose the support of Conservative MPs, like us, who backed the Withdrawal Agreement in March (in many cases very reluctantly), and you would be unlikely to gain as many Labour MPs to compensate.
"More fundamentally, you would have lost the loyal middle of the Conservative Party, split our party and with likely nothing positive to show for it."
The letter also warned that even if May did strike a deal with Labour, the next Tory leader could simply tear it up.
It said: "No leader can bound his or her successor, so the deal would likely be at best temporary, at worst illusory."
That intervention spooked Labour's shadow chancellor John McDonnell, a key player in the talks.
After warning the government has yet to put forward "the significant shift" in position the party needed to support a deal, McDonnell said: "What we are all concerned about is the letter from Boris Johnson which said one he wouldn't accept a customs union, one of our key elements, and secondly that if he was leader, and he may well be, that he would overturn any deal that we'd agreed."
"That doesn't inspire confidence in the ability to secure a deal that lasts longer than a couple of months."