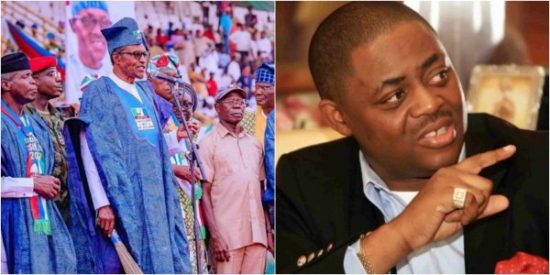 Mr. Femi Fani-Kayode, the former Minister of Aviation, and aid to PDP has said that the attack on President Muhammadu Buhari and the All Progressives Congress national chairman, Adams Oshiomhole on Monday at the party's rally held in Abeokuta was "payback from the Lord for your cruelty to Nigerians over the last 3 years."
Oshiomhole and Buhari were yesterday, booed and stoned at the party's campaign rally at Ogun state.
The problem started when Oshiomhole mentioned the name of the party's governorship candidate in the state, Mr. Dapo Abiodun while addressing the crowd.
Reacting, Fani Kayode, on his twitter handle said that "this is just the beginning."
He tweeted:
"First you were booed and jeered and now you are being stoned at your own party rally! Shame on you Buhari!
"The Lord is paying you back for your cruelty to Nigerians over the last 3 years! God's judgment is upon you for your evil and wicked ways and this is just the beginning!"