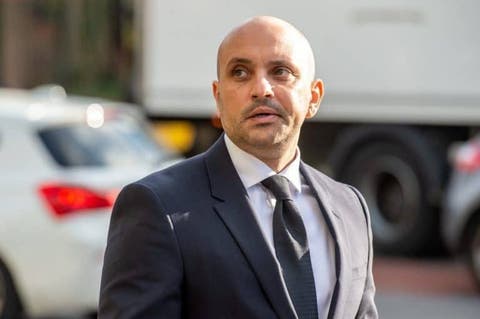 The former brother-in-law of Victoria and
David Beckham
has been jailed for 30 months for his role in a £800,000 boiler room scam.
Darren Flood found "high net worth" investors to be ripped off and his fellow fraudsters played up his ties to the
Manchester United
football legend to fleece pensioners of savings.
Flood - the former husband of Spice Girl
Victoria Beckham's
sister - was a director of The Commodities Link, which cold-called the elderly to sell them worthless "rare earth metals".
He was sentenced alongside five others at Kingston Crown Court on Friday for conspiracy to commit fraud by false representation.
Two dozen victims lost £800,000, and one potential target was the dad of former Chelsea midfielder
Joe Cole.
There is no suggestion the Beckhams knew anything about the scam or about any use of the Beckham name.
Flood, 40, of Hertford, was convicted of fraud after a 10-week trial at Kingston Crown Court. He owned almost a quarter of The Commodities Link but quit after almost 10 months with the company.
Deputy circuit judge Michael Carroll, addressing Flood and the others, said the investment scheme he was involved in was "fraudulent from the outset".
He told the group: "This must have been known to you once you became intimately involved in the running of the company or played a part in it."
Flood was part of the business alongside his half brother Jonathan Docker and their cousin Gennaro Fiorentino, who played "the leading role", the court heard.
Victims were encouraged to buy "rare earth" metals which are mainly used to make tech products with the promise of big profits but paid up to 200 times over the odds.
They invested more than £800,000 - paying up to 200 times more than the original purchase price - between April 2012 and August 2014, but the materials were practically worthless.
Flood was responsible for marketing and branding as set out in a "roles and responsibilities" PowerPoint uncovered by police.
He received more than £26,000 from the company for "media and advertising work" and joined as a director in June 2012 opening its two bank accounts with Coutts bank later that year.
But in company documents he was accused by colleagues of not performing on "any level" other than to "extract expenses."
Flood was a director of the company between June 2012 and April 2013 and "tensions" with colleagues were revealed in several documents uncovered by detectives.