French Open 2018: Novak Djokovic's shock exit from French open to world No72, Marco Cecchinato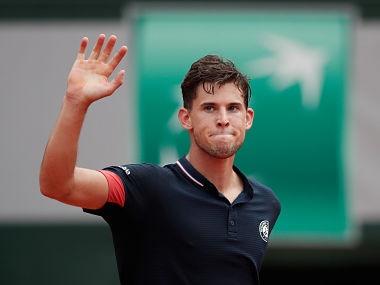 Paris:
Just like last year, Novak Djokovic bows out of the French Open at the quarter-finals stage and once again his exit is accompanied by question marks – but not as many.
In what was quite probably the match of the tournament on the men's side so far, Djokovic was stunned by Italian surprise semi-finalist Marco Cecchinato.
The World No 72 had never won a match at Grand Slam level prior to this tournament and barely scraped past Romania's Marius Copil in his opening round in Paris (10-8 in the fifth set).
In the Round of 16, Cecchinato had already shocked David Goffin in four sets.
For a long time, the Italian was able to push the twelve-time Grand Slam Champion across the court, often dictating the play with angles, throwing in slices and never really allowing the 31-year-old to gain much rhythm.
Just when it seemed like the Serb had started to grasp a solid foothold of the match in the fourth set, Cecchinato was allowed to come roaring back and force a tie-break.
Both the Italian and the 2016 French Open champion had opportunities to decide the fourth set in their favor with the former World No 1 being unable to convert any of his three set points. In the end, it was the unheralded Italian, who won the quarter-finals on his fourth match point with a carefully guided backhand return down the line to clinch the tie-break 7:6 (11).
Cecchinato celebrated the biggest win of his career, falling on his back and Djokovic showed great sportsmanship congratulating the surprise man of this year's tournament in the face of what seemed like an agonizing defeat to spectators.
And just a little while later, the extent of the frustration and agony took very clear shape in Interview Room 2 of the Roland Garros Media Centre.
Extraordinary press conference
Djokovic is no stranger to walking straight off the court and right into the press conference room after a loss. On the contrary – it's something that people have almost come to expect. So when the announcement "Novak Djokovic is on his way to the:.." started ringing through the PA system, many headed for the main interview room. The big names are rarely ever found in a smaller room, particularly in the second week of a slam.
After a few moments, however, people had noticed through the glass windows that the Serb had indeed taken a seat in the far smaller Interview Room 2, which is adjacent not only to the main interview room but also to the Mixed Zone Entry for TV.
Djokovic had taken a seat and he was going to hold his press conference right there, right then with the far too small room almost bursting at the seams with press and media all trying to fit in.
While the room was overflowing with journalists, Djokovic's answers dried up within seconds after most questions had been posted.
The 31-year old's disappointment, frustration and complete bewilderment over what he had experienced on the court were apparent, but particularly in the final stretch of the encounter were pulsating through the room with every word he said and almost more so with every word he didn't say.
"I don't know. I don't know if I'm going to play on grass", the Serb said with an edgy, agitated sound to his voice and he didn't dive further into the matter when he was asked again.
"I don't know. I don't know what I'm going to do. I just came from the court. Sorry, guys, I can't give you that answer. I cannot give you an answer."
It was this precise moment, while completely different in tone that was reminiscent of his press conference after Djokovic lost the 2017 French Open Quarterfinals.
One year ago, the Serb was flat-out asked if he had ever thought about taking a break. In the twelve months after winning the 2016 French Open, Djokovic had stopped looking like the player that dominated the tour for large patches of this decade.
"Well, trust me, I'm thinking about many things, you know, especially in the last couple months. You know, I'm just trying to sense what's the best thing for me now. We'll see. Obviously, it's not an easy decision to make", the Serb elaborated on 6 June 2017, with surprising calmness considering how badly he faded away against Dominic Thiem that day.
In the subsequent months, Djokovic's elbow forced the 12-time Grand Slam champion off the tour and further elbow-issues cut his comeback short.
"I clenched my teeth and I kind of went through it, played Australia, but wasn't really ready. Then I had to do surgery. It takes time to overcome that surgery. It has obviously some consequences on your body that I never faced before", Djokovic explained during the Mutua Madrid Open in May, where he lost in the second round to Kyle Edmund of Great Britain.
In Rome, however, Djokovic seemed to gain more momentum, more traction. The Serb had reassembled many of old trusted voices around him during the clay court season (Coach Marian Vajda being just one of them) and started playing his best tennis in twelve months during the Internazionali BNL d'Italia. Djokovic defeated Kei Nishikori in the quarter-finals before falling to Rafael Nadal in the semi-finals – after pushing the Spaniard hard, particularly in the opening set of their encounter.
Djokovic left the Foro Italico with both his tennis and his believe reinvigorated.
"I mean look, in life, you know, we – people are very powerful, you know. We can turn things around in one day, you know. And I truly believe in that. I've experienced it myself many times throughout my life and my tennis career. So, I believe that one match, one tournament can turn things around one way or another. It just depends how you take the positives or the negatives out of it and use it for your benefits in the future", the Serb explained only a few weeks ago in Rome.
On Tuesday evening, however, Djokovic had absolutely no idea how to take anything out of a painful loss that should have been his big opportunity to reannounce himself at the semi-finals of a Grand Slam. Instead, a shell-shocked Djokovic was barely able to elaborate on his feelings, let alone put them into words.
The former World No 1 ran into an inspired opponent, found himself struggling with several physical issues (neck/shoulder and calf) and still managed put himself into a favourable position to force a fifth set. But when it mattered, the Serb blinked on break points and set points in the fifth set. During Cecchinato's first three match points, Djokovic conjured up remarkable tennis, particularly at the net and maybe that's what makes this loss, this opportunity gone-missing all the more difficult to swallow.
"Any defeat is difficult in the Grand Slams, especially the one that, you know, came from months of build-up. And I thought I had a great chance to get at least a step further but wasn't to be", the 31-year-old said ruefully.
But the frustration and anger about the defeat that emanated from the Serb in the crammed Interview Room 2 showed a massive difference to the deflated Djokovic of 12 months ago: it shows passion, hunger and just how much he cares and how much he has invested during the last months on clay in trying to find his way to the very top again.