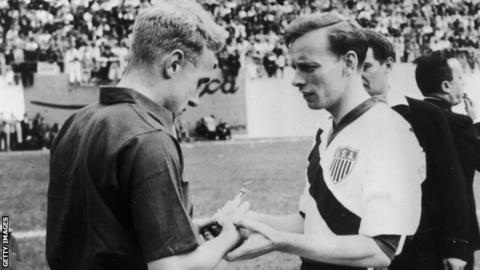 In 1950
England suffered their worst defeat and wold cup worst ever defeat in a game against the USA. And this has remained the biggest shock in World Cup history, according to new research.
An American team of a postman, a mill worker and a funeral director beat an England team - who were favourites to win the tournament - 1-0 in Belo Horizonte, Brazil.
And according to sports data company Gracenote, the Americans had only a 9.5% chance of winning.
What might happen in Russia?
Nothing will be as worst as that USA defeat for England.
Group G opponents Panama are said to have a 17% chance of shocking Gareth Southgate's side, Tunisia a 20% shot, while the odds of Belgium beating them are 35%.
Notwithstanding, there are just two matches that could come close to 1950 USA victory in terms of shock value - both involving five-time champions Brazil.
Serbia's probability of a group-stage win over Tite's side on 27 June is rated at 10.7%, while Costa Rica are considered to have an 11.4% chance of beating the South Americans four days earlier.
The next most unlikely win in the group stages is Nigeria beating Argentina, while Switzerland defeating Brazil the would also prove a shock.
South Korea prevailing over reigning champions Germany would be the fifth most unlikely victory based on Gracenote's ratings to determine team strength and the probability of a win, draw or loss.
Matches won in normal time by the underdog with the smallest percentage chance of winning according to these estimates are identified as the biggest shocks.
According to Gracenote, the second biggest - and most recent - World Cup shock came at the 2010 tournament in South Africa when Switzerland defeated favourites and eventual champions Spain 1-0.
Third on the list is Algeria's 2-1 win over West Germany in 1982. The North African nation produced a remarkable result in what was their first World Cup match.
Germany hosted the for the fourth biggest shock when Ghana defeated the Czech Republic 2-0 in 2006.
But the 1950 tournament produced yet another memorable moment when Uruguay defeated Brazil 2-1 in the group stage - a game widely dubbed as the final of the World Cup.
Hosts Brazil only needed to avoid defeat to effectively lift the Jules Rimet Trophy, but Uruguay scored twice in 13 minutes to almost silence a crowd of nearly 200,000 people.